1−3−10,Nishiazabu,Minato-ku,Tokyo
TEL 03-5474-1237



・3 minitues walk from Roppongi Hills
・also nearby from Roppongi Sta on the Oedo-Line
and Roppongi 1-chome Sta on the Namboku-Line

・Roppongi Sta、4 min.
・Nogizaka Sta、5 min.
・Roppongi 1-chome Sta、9 min.

The hotel is located in the center of Akasaka, Roppongi and Azabu.
Visitors are always welcome anytime.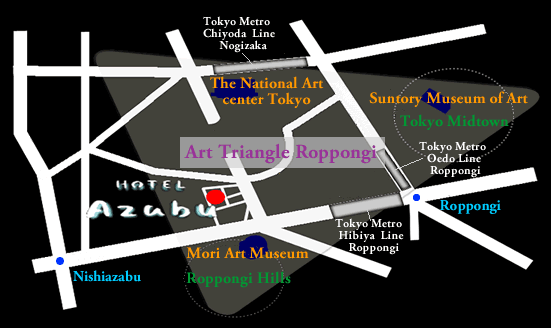 A Parking lot

We have secure parking available for one car.
Discount of 1,200 yen (rest) and 2,000 yen (stay) for visitors who use neighboring toll parking lots.
Please show your parking ticket at the front desk when you check out.




Guidance to linked hotels

「HOTEL B-SIDE」 in Gotanda offers equally comfortable facilities, with 22 rooms and 6 parking spaces.
HOTEL B-SIDE offers the same service as HOTEL Azabu, based on our motto, "thinking about customer's satisfaction first". so visitors from HOTEL Azabu will be highly satisfied.

It's approxiamately 15 - 20 minutes away, if you ride by car from HOTEL Azabu and Roppongi Hills.





Please Click !